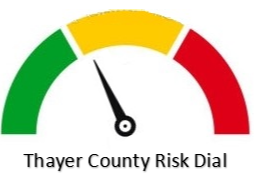 Risk Dial for Thayer Central Community School
Public Health specific data on Positive COVID diagnoses for the past 7 days:
"Please check the Thayer Central Protocol Document for guidance on safe practices. The move to Green on the risk dial does not create a change in how Thayer Central operates as a school district. Masks and protecting the health of our communities, staff, and students continue to be a priority. If there is a significant change in district protocol a notification will go out district-wide"
* Must Maintain 6 feet of separation between people(outside household), now a mandate
* Must Wear a Mask at all times at an event(spectators and bench), mandate from NSAA
* Only household members can attend club and/or school athletic events
* Indoor events are now at 25% of capacity
For more information visit the Public Health website.
Public Health Solutions Risk Dial for Thayer County
Public Health Solutions COVID-19 Dashboard