Homecoming is this week! Dress up days are a fun way to show school spirit!
DRESS UP DAYS are Monday : PJ Day Tuesday: USA Day! Wednesday: Color Day with each grade level a different color Thursday: Country Day Friday: Titan Day
We look forward to all the alumni who may be returning for HOMECOMING or any events this week!
Monday: Jr. High Volleyball and Football and JV Football
Tuesday: HS Volleyball at Sandy Creek
Thursday: Jr. High and HS Cross Country at Fillmore Central & FFA to Husker Harvest Days
Friday : HS Football game with the Palmyra
Other fun events are the LipSync Contest in the HS gym on Friday at 1:30 and the Parade from the school to downtown on Friday, starting at 2:30.
Come out and support Thayer Central Community Schools.
Go Titans!!!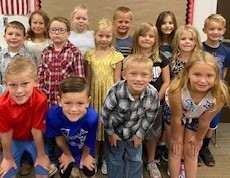 by Lisa Wiedel Sept. 13, 2022